Dogs are our passion,we truly love what we do
The kennels at The Old Dairy Dog Hotel have been constructed to the latest health and hygiene regulations as set out by the Welsh Government.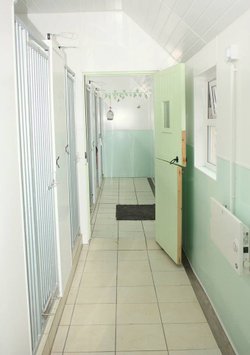 Our kennels are light and airy, being far larger than the recommended licensing sizes, enabling dogs from the same family to comfortably share.
Each kennel has a spacious covered patio area accessed from the kennel by a sliding door,so your pet can choose to be snug inside or enjoy the fresh country air outside regardless of what the weather is doing.
All kennels have an area that has thermostatically controlled underfloor heating,so your dog can choose to be cozy and warm or cooler,according to their own requirements. There is also background central heating to ensure the comfort of our guests.
We use Adaptil defusers to help create a relaxing and comfortable atmosphere for our guests.
We have 18 acres of beautiful paddocks,woodland and two lakes,we therefore are able to offer a variety of exercise options whilst your pet stays with us:
Lead walks.
Free play times in one of our secure paddocks on their own,suitable for dogs who prefer their own company.
Free playtimes as above but with one other suitable companion (only with permission of both owners).
Free playtime with multiple dogs,this is only offered to suitable, sociable dogs and is always supervised.
We also offer pack walks with our own dogs,this offers the chance for your dog to socialse and enjoy longer walks around our land,in summer they can even enjoy a paddle ,or the for the more adventurous, a swim in our lakes ( this is only available to suitable dogs and a small extra charge is made for this service).
It is your choice how you think your dog would most enjoy to spend its exercise times, it can be just one type of exercise or a combination of several ,the choice is yours !
In the near very future we plan to build a doggy play area, this will be added as another exercise/play time facility for your dog to enjoy.This new area will have lots of different items in it, all designed to stimulate your dog with a variety of toys, surfaces, climbing areas, mounds and tunnels.
Whilst your dogs has his holiday with us, boredom is not on the agenda !